Continental CD-300 Turbocharged, FADEC Controlled
Jet-A1 Engine with 300 HP TOP / 270 HP MCP
MT Propeller MTV-12-D / 210–56 3-Blade Constant Speed Propeller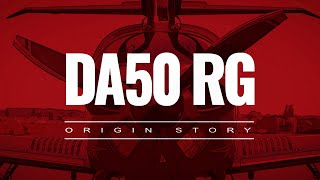 Sensational, Spacious, Sustainable, Jet A-1 Powered
The DA50RG stands out from the crowd. Five seats, large baggage compartments
G1000 NXi Avionics, generous payload with full fuel.
181 kts. max cruise. Available for delivery Oct 2023
POWERPLANT
Continental CD-300 Turbocharged, FADEC Controlled
Jet-A1 Engine with 300 HP TOP / 270 HP MCP
MT Propeller MTV-12-D / 210–56 3-Blade Constant Speed Propeller
EXTERIOR
Two tone metallic paint Ruby Red over metallic silver with Anthracite vinyl accents
Hydraulic Retractable Landing Gear
Heated Pitot Tube
Electrically Operated Single Hinged
Double Slotted Flaps
Electrically Operated Cowl Flaps
Landing and Taxi Lights (HID-Xenon)
Integrated Position and Strobe Lights with LED Technology
INTERIOR
Diamond Premium interior – Black with red accent stitching
Adjustable backrest for pilot and copilot (with adjustable lumbar support)
USB Power Outlets-Pilot, Copilot, Passengers 2nd Row
Instrument Lighting
Overhead Cabin, Reading and Map Light
Electrically Adjustable Rudder Pedals for Pilot/Copilot
Middle Armrest
Dual headset plugs (LEMO & Standard)
Sun Visors for Pilot and Copilot
AVIONICS
Integrated Garmin G1000 NXi Glass Panel Cockpit including:

2x Garmin GDU 105x 10-inch Flight Display (PFD & MFD)
Garmin GEA 71B Airframe/Engine Interface Unit
2x Garmin GIA 64W COM/NAV/SBAS-GPS/GS/LOC
Garmin GMA 1360 Digital Audio System
Garmin GRS 79 Attitude Heading Reference System
Garmin GDC 72 Digital Air Data Computer
Garmin GMU 44 Magnetometer
Garmin GFC 700 Automatic Flight Control System including Yaw Damper and Garmin electronic stability protection (EPS)
Garmin GTX 335 R remote ADS-B Out Transponder
Garmin ChartView Approach Plates (subscription required)
ELT 406 MHz
Digital Standby Attitude Module (MD-302 SAM)
Garmin Flight Stream 510
Garmin GCU 476 Keypad
Garmin Synthetic Vision Technology
Garmin GTX 345R ADS-B In/Out Transponder
SAFETY CONCEPT
Composite Cabin and Safety Seats
"FAILSAFE" Airframe and Wing Design
Multipath Lightning Protection System
3-Point Safety Belts Automatic (all seats)
Garmin ESP (Electronic Stability and Protection)
ADDITIONAL OPTIONS
Pitot Cover
Tow Bar
Tool Kit
Control Gust Lock
First Aid Kit
Fire Extinguisher
Egress Hammer
Air Conditioning/RACC System
TKS De-Icing system
Oxygen System
Removable Right Hand Control Stick
Exclusive Sales Territory for New Diamond Aircraft
New Mexico, Texas, Oklahoma, Arkansas, Louisiana, Mississippi, Alabama, Georgia, Florida, Maine, New Hampshire, Vermont, Rhode Island, Massachusetts, Connecticut, New York, Maryland, New Jersey, Pennsylvania, The Bahamas, Puerto Rico and the U.S. Virgin Islands. For more information on new Diamond aircraft, check the Diamond Line-up section or contact us directly.
Entire Aircraft Inventory